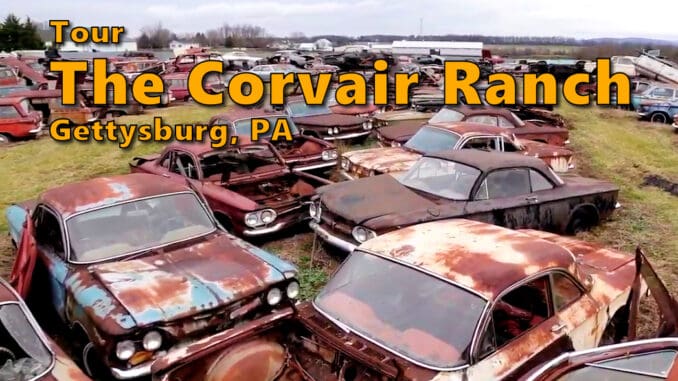 The Corvair Ranch, Inc. began on its current site as a hobby by John Goulden in the early '70s. In 1975 Jeff Stonesifer (the current owner) started working with Corvairs and began his involvement with John.
It later became apparent that the hobby had the makings of a potential business, so in 1986, Jeff took ownership of the property and officially started the Corvair Ranch.
The business continues to flourish as a full-time Corvair repair and parts business.
​The Corvair Ranch displays some impressive statistics. Over 600 Corvair cars, trucks, and Ultravans are located on the property.
There are six tractor-trailers full of heavy drivetrain parts, including Powerglide and three and four-speed transmissions, differentials axles, and body panels of all descriptions. Five buildings provide further parts storage, office, and service space.
Visit The Corvair Ranch
The Corvair Ranch hours are Monday thru Friday 9 to 5, Saturday 9 to 12, closed on Sundays, or contact us for an appointment.
The Corvair Ranch
1079 Bon-Ox Road, Gettysburg, PA 17325
(717) 624-2805
findit@theranch.today
The Corvair Ranch Service Offerings​
Within the main four-bay service building, all models of Corvair can be completely serviced from the smallest early convertible to twenty-four-foot-long Ultravans, and everything in between. Several members of the staff are also certified PA State inspection mechanics. Complete Corvair-only service has been the mainstay of the Corvair Ranch since its conception.
​Services provided by the Corvair Ranch, Inc. include upholstery, mechanical, paint, and complete rebuilding of Corvairs as well as a machine shop for full remanufacturing of engines. Additionally, the Corvair Ranch has served customers in the past by helping them to buy and sell their Corvairs to other enthusiasts.