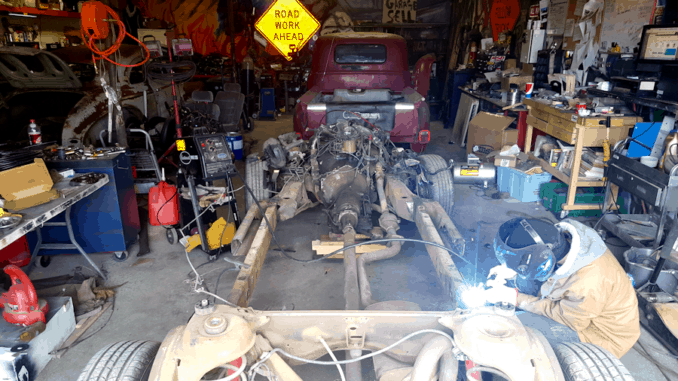 The General Motors 4th Generation B-Body Platform produced from 1991 to 1996 with a 115.9″ wheelbase is perfect for a lot of 40s, 50, and 60s cars and trucks, except… its frame rails are too wide for most of these classic vehicles.
The classic tins could of course be cut, the floor channeled or otherwise modified to make the old body fit the new chassis.
Solution: Narrow the B-Body chassis frame rails.
Chassis narrowing example on GM 4th Generation (1991-96) B-body chassis
GM B-body donor cars include 1991-96 Chevrolet Caprice Classic, Chevrolet Impala, Buick Roadmaster, and Oldsmobile Custom Cruiser.
This example is on a 1993 Chevrolet Caprice Classic in preparation for being planted under a 1951 GMC 3100 Advanced Design Truck.
In this case, we used the salvaged steel frame rails from the original GMC truck frame to narrow the 1993 Caprice chassis. The rails were stripped down and left over-length. The rail ends were trimmed to fit on each end. 
The frame of course is left uncut until the new straightening rails are welded into place. The chassis supports itself — no frame jig or frame table required.
With all four corners welded to the point of no risk of movement, the first section of b-body frame rail is cut away to allow for the remaining steel to be folded into the rail and welded together as one.
With the second section of b-body frame rail cut away, the rails can be boxed into place.
We shortened and used the b-body transmission support and cross-member, and added an additional cross member in the rear as well.
Another Example of How To Narrow a GM B-Body Chassis
Essentially, this example the same as above, although this was done with fresh 6″ x .25″ C Channel stock…