This custom toolbox is built by Mancravez — The 1947-53 Chevrolet 3100 Advanced Design truck front end toolbox is all steel – No plastic or fiberglass! It features working headlights (both high and low), built-in LED marker/turn signals lights, and includes two built-in cup-holders.
The grill-front drawers are of welded construction with 16-gauge steel and slide-on heavy-duty ball bearings. Each drawer is rubber-lined.
The top two drawers are 3 inches deep and have over 1,100 square inches of storage space. The lower drawer is 6 ½ inches deep, with an additional 1,100 square inches of storage.
The upper toolbox is an all-steel, removable toolbox with three drawers and a separate lock. Each drawer is rubber-lined and measures 12 x 24 inches offering 288 square inches of storage space.
The wheels are 15 x 7-inch smoothies wrapped with radial tires. Upgrades are available for special wheels and tires up to 20 inches in size.
The toolbox will be finished with your choice of 2-stage (base + clear coat) urethane paints. Special colors, two-tones, or pearl/flake upgrades are available.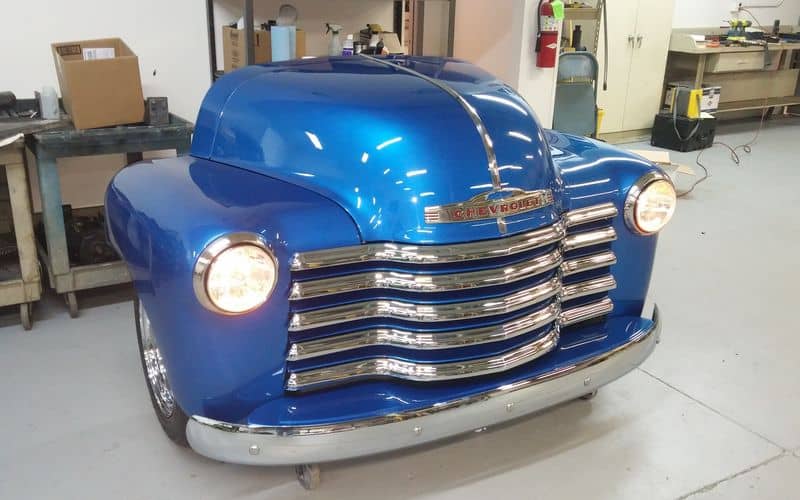 Available Options:
Remote Control
Two (2) optional remote controls. Each 12 function remote controls the hood release, headlights, marker lights, under-hood LED Lighting, and any other electrical option.
Bluetooth Wireless Soundbar
The optional Bluetooth Wireless Soundbar includes USB/Aux. jack and remote control to play your favorite tunes. The USB ports double as a charging port for your devices.
Car Cover
The optional car cover is custom-fitted to properly fit and protect your toolbox.
Each Toolbox is One of a Kind
Because you are involved with the design and choices, you'll end up with something no one else has, but everyone wants!
Custom Builds Available
Tell Mancravez about your favorite vehicle.  They'll tell you what they can transform it into. Contact Marty at Mancravez at (216) 509-8354 or Mancravez.com
Editor's Note: You'll find several fake ads online for these toolboxes, often priced under $100. It's a scam — actual toolboxes start around $6,000. If the price you see elsewhere seems too good to be true, it is.
Portable Tool Box Refrigerator with 2 Drawers and Lock
A favorite pairing, this 1.8 cu. ft. capacity shop refrigerator is powder coated red with a full stainless steel exterior and handsome toolbox design
Mechanical temperature control with a temperature range from high 30ºF to mid 60ºF
Wheel casters for mobility, two of which lock for secure stationary use; 2 roller-guided drawers
Powerful compressor cooling; Lock and key set
Product dimensions: 17" W x 21" D x 32" H